Leyla Yenirce
Splitter
April 28 – May 27, 2023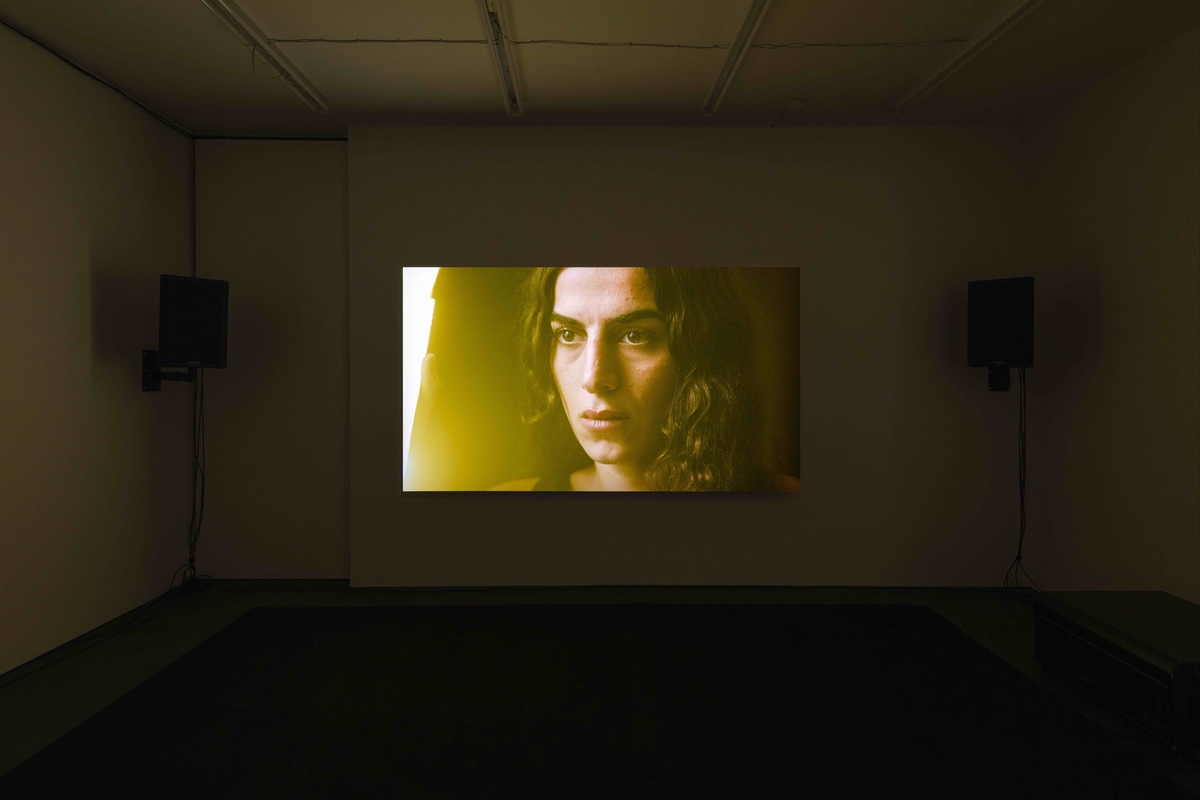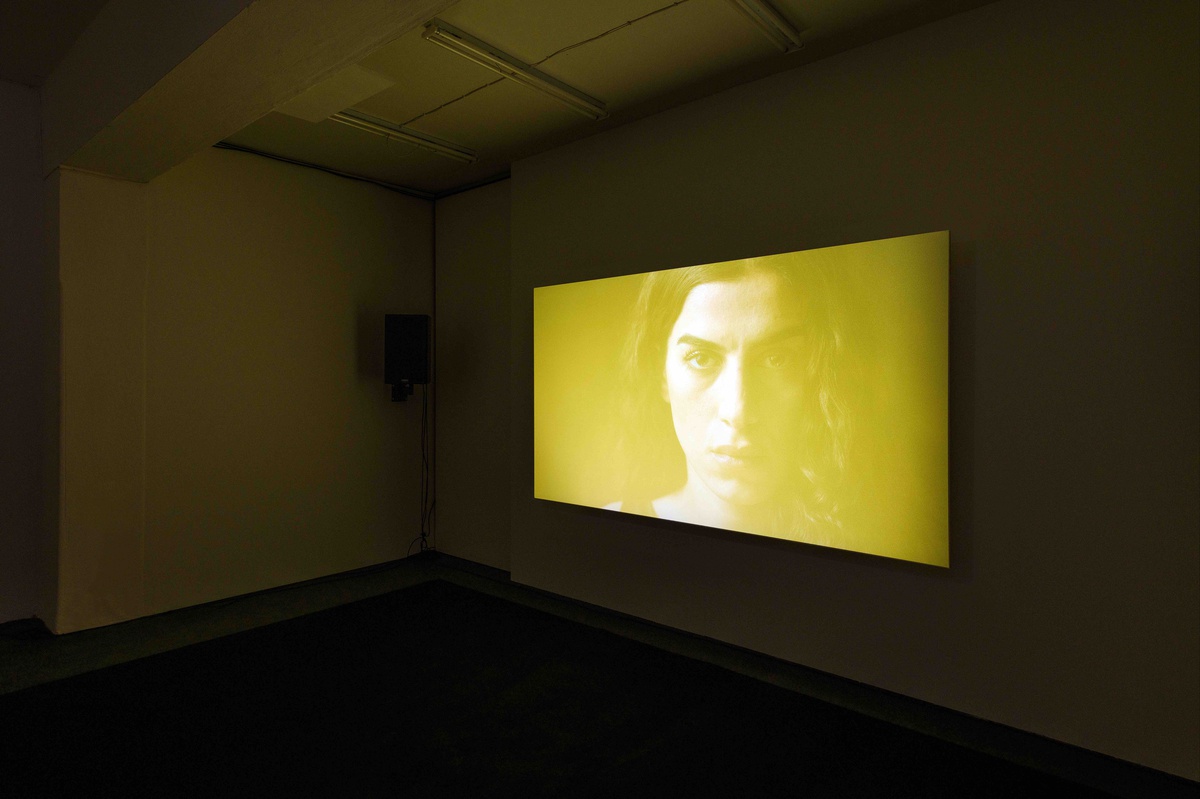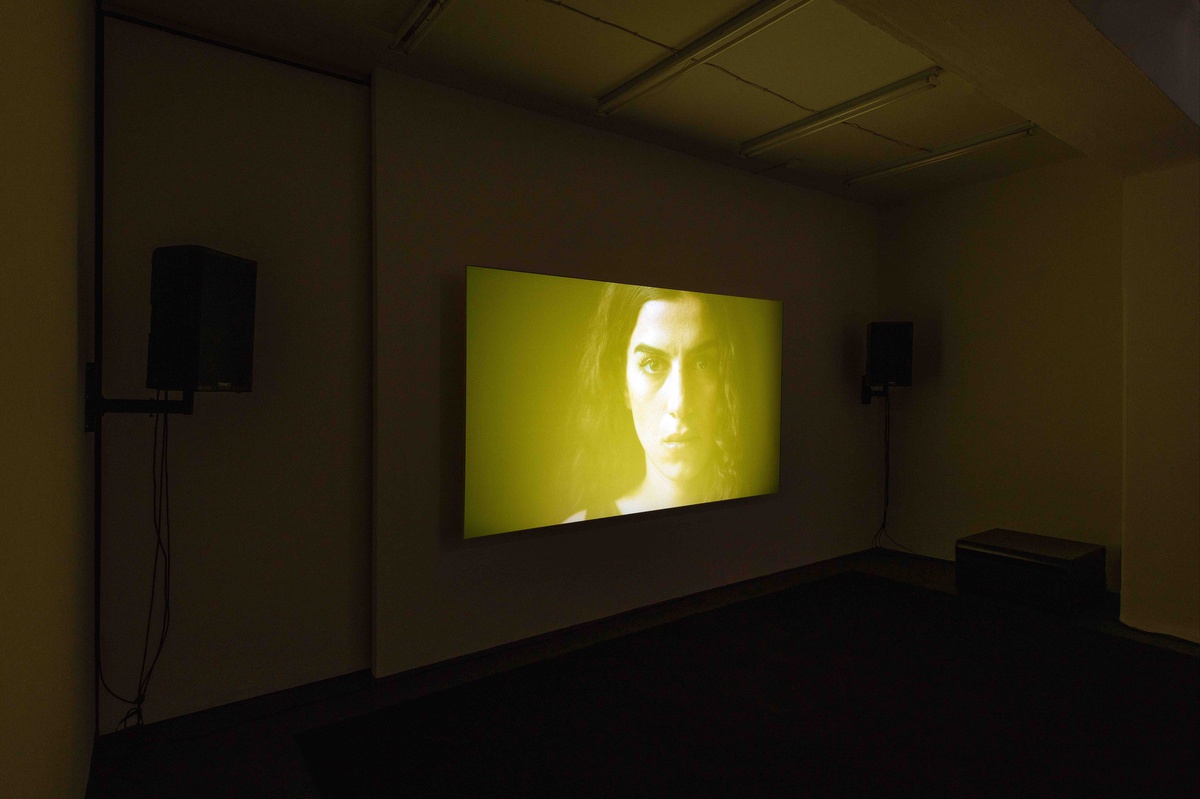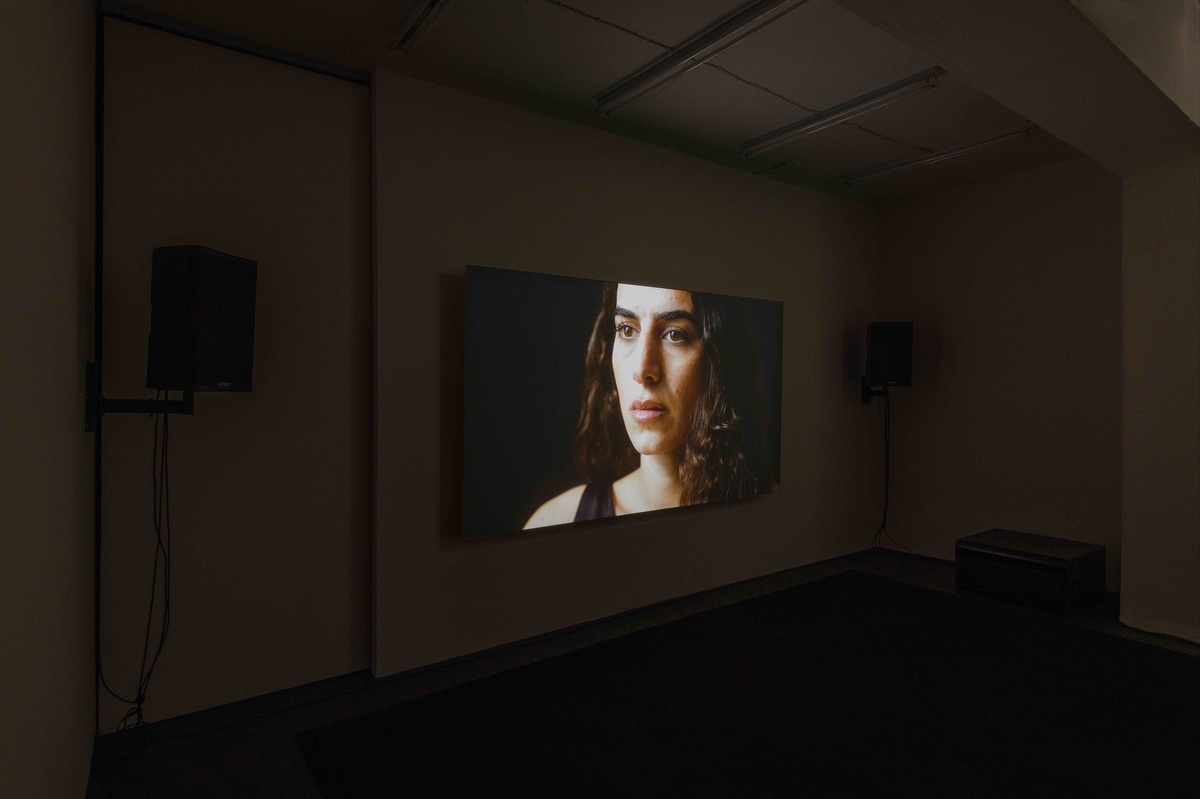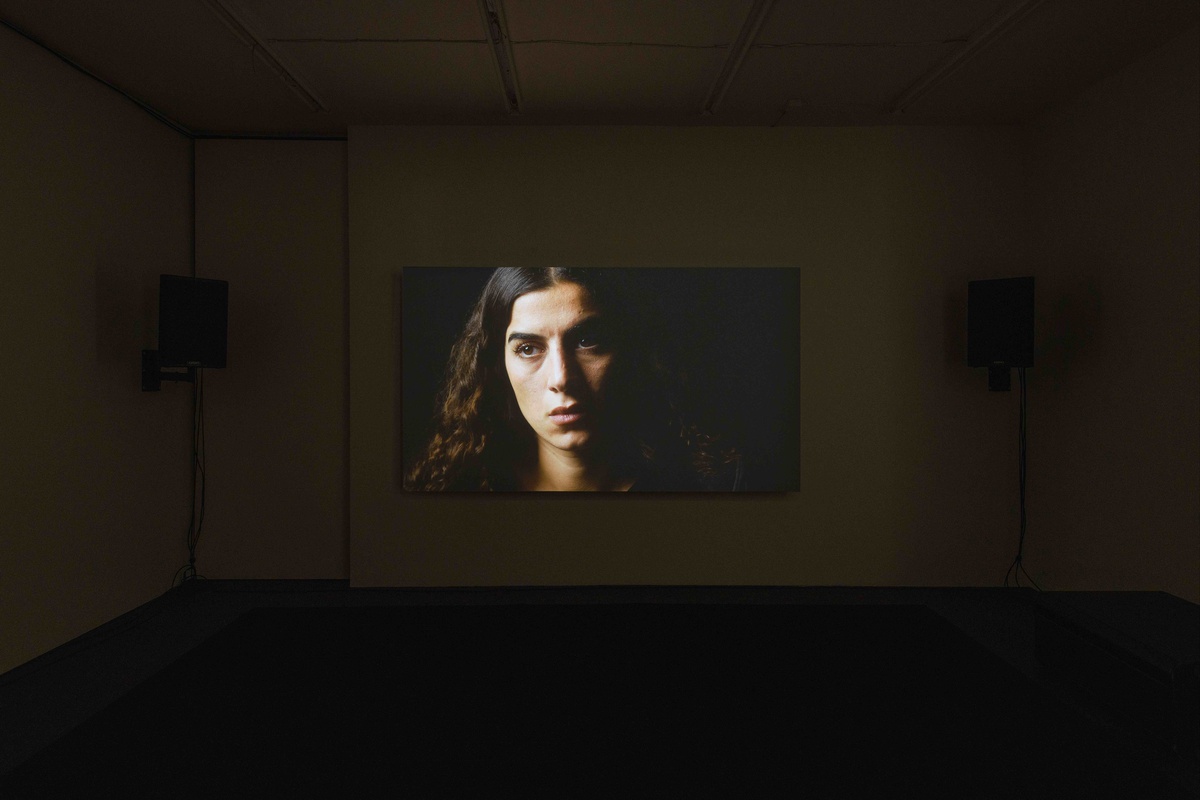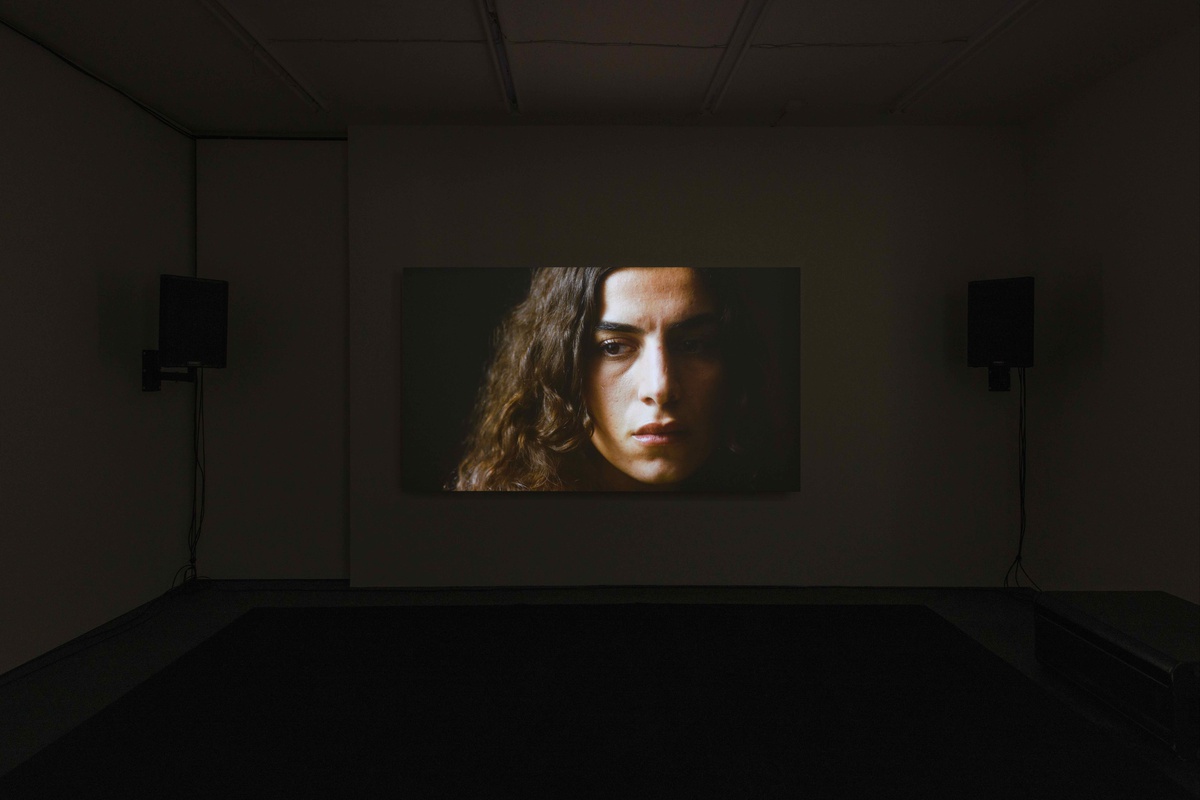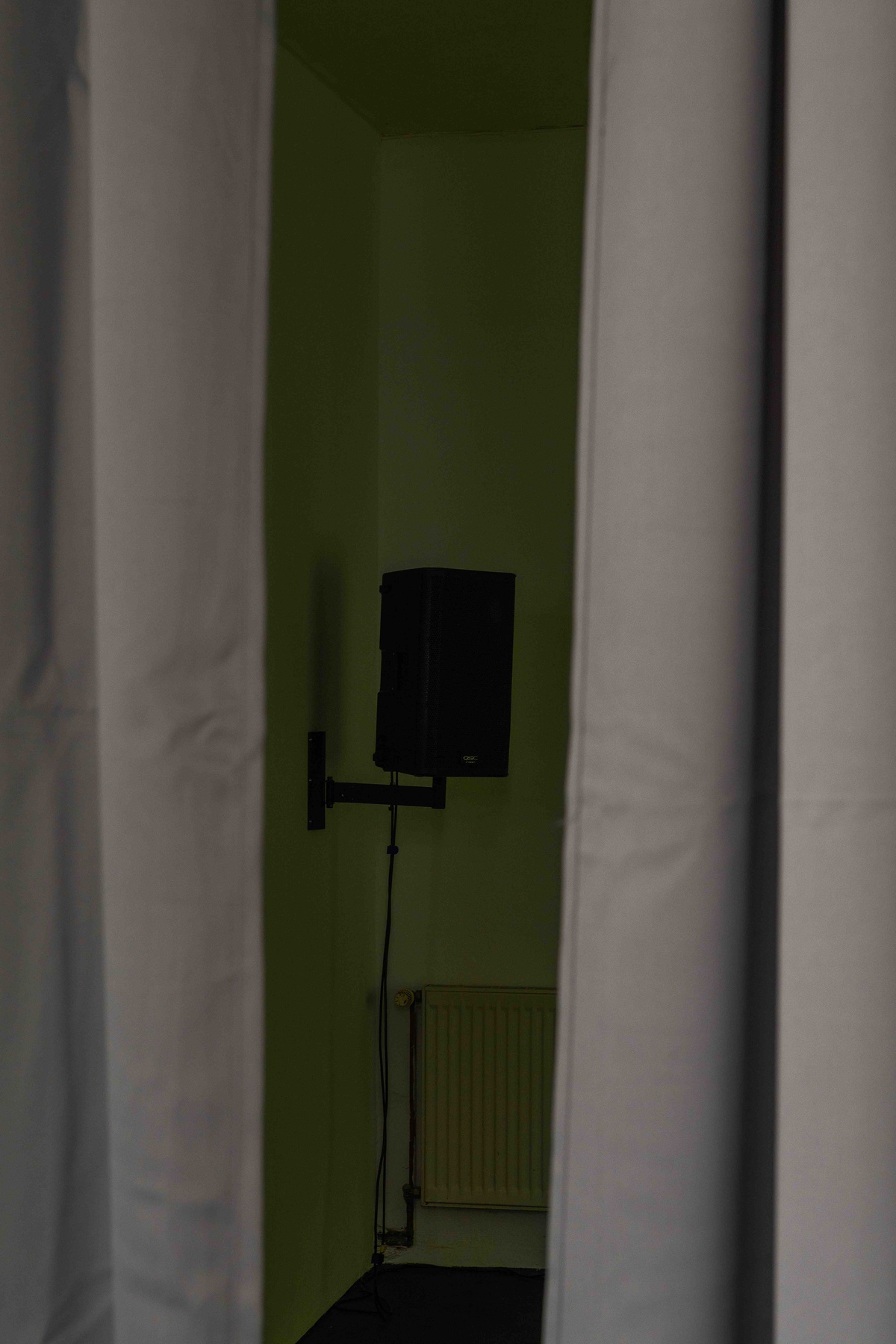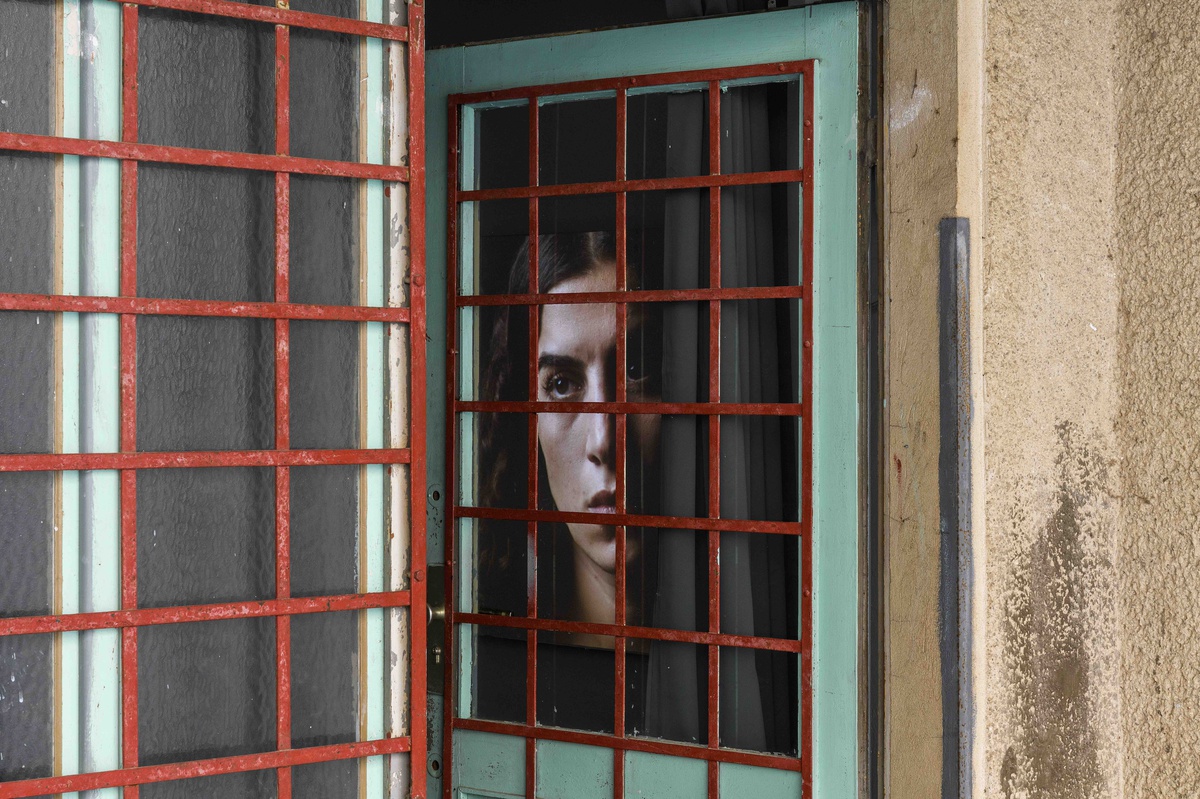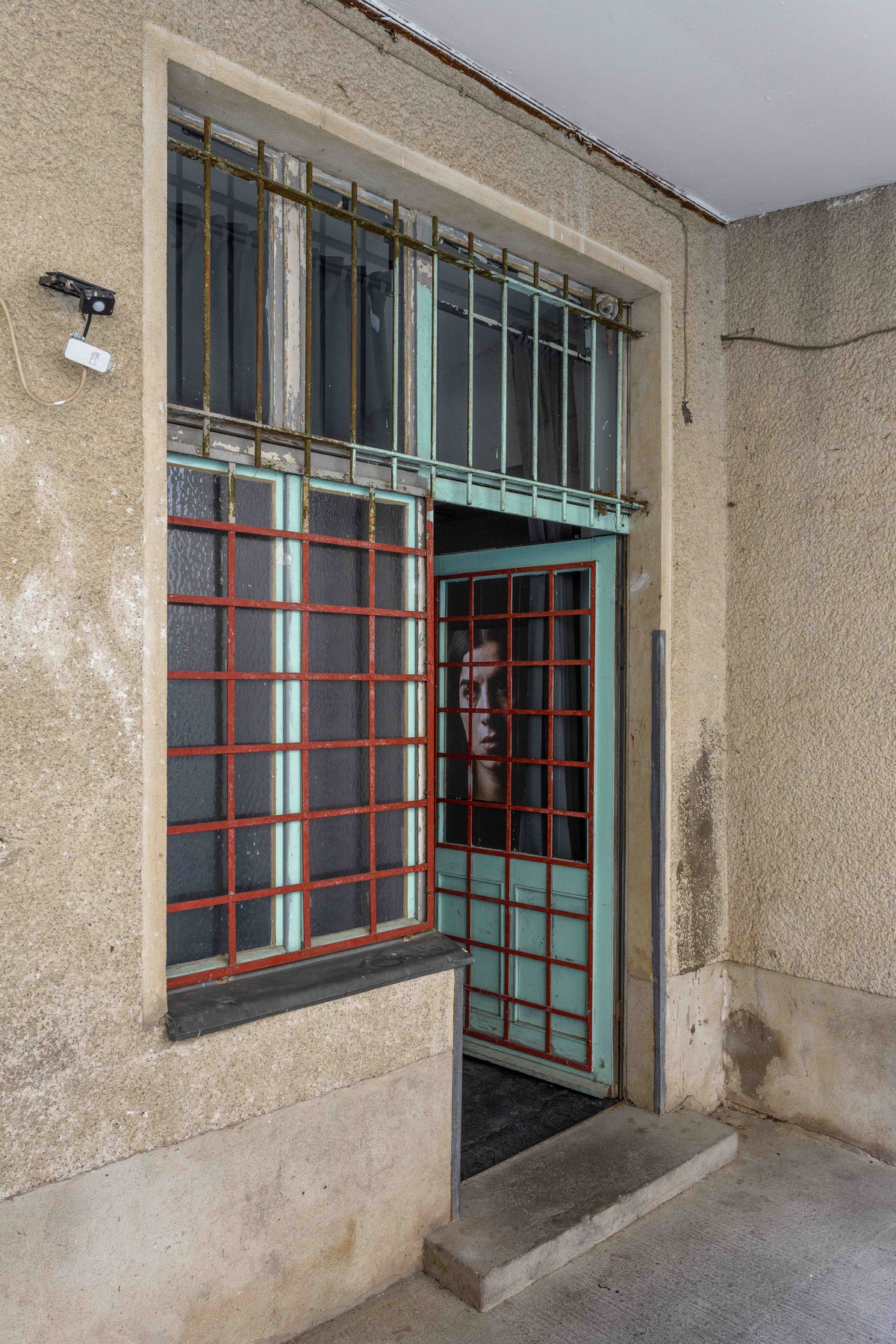 EN

A young woman is seen in close-up against a dark background. Her attention is focused on something off-screen; her concentrated gaze suggests a space that we cannot perceive. Surrounded by high-pitched, increasingly shrill sounds, her inquiring expression slowly gives way to a proud stance, alters to determination, and ultimately turns into a withdrawn vulnerability. But then, she becomes active: by using a mirror, she creates reflections and disturbances to the image, addressing it toward the viewer. As she retreats, the bass increases into a dense sound. She dissolves her own image while fading into yellow light, and her disappearance becomes, for us, a physical experience.
When she reappears shortly afterward, she seems to have risen from the baroque pictorial worlds of a Caravaggio or an Artemisia Gentileschi; rich light-dark contrasts lie on her tense face. She appears exhausted but straightens up again, aware of a context invisible to us. Is she exhibiting herself, or is she exposed to our gaze? Is her disappearance a camouflage or a game?
This ambivalence, which also addresses questions of power and powerlessness, lies at the heart of Leyla Yenirce's latest work. Her protagonist cannot be pinned down to a single role: she is simultaneously the object of a foreign gaze and the cause of its disturbance.
The performer, Janosa Mike, has already appeared in the video work Paradise (2019), in which she embodied the role of Zeynep Kınacı. The young Kurdish woman blew herself up in 1996, disguised as a pregnant woman during a military parade in Tunceli (Dersim), killing seven Turkish soldiers. The underground organization Kurdistan Worker's Party (PKK) then celebrated her as a martyr. The video is part of Yenirce's exploration of the fine line between resistant emancipation and transfiguring media heroization. In this context, SPLITTER represents a shift: while works like Paradise address death, in SPLITTER, the performer becomes a very lively figure. The mysterious woman fends off the glances, the reflected light becomes her protection. The perspective that Yenirce addresses in this work is also that of the Turkish state on the Kurdish freedom fighters: for a while, the Kandil Mountains in northern Iraq used to offer protection, but the use of drones by Turkey now allows for the covering of the whole area without any gaps. Yenirce gives her protagonist a reflective object in order to dazzle, to make herself invisible, and thus to remain able to act.
–– Ferial Nadja Karrasch
Leyla Yenirce SPLITTER, 2023, full HD Video, color, sound, 3:45 min
Starring: Janosa Mike, co-directed by Theresa George, visual design: Sin Huh, mixing: Anders Fallesen, mastering: Kris Jakob
DE

Eine junge Frau ist im Close-up vor dunklem Hintergrund zu sehen. Ihre Aufmerksamkeit richtet sich auf etwas für die Betrachtenden Unsichtbares, ihr konzentrierter Blick eröffnet einen imaginären Raum außerhalb der Projektion. Begleitet von hohen, zunehmend schriller werdenden Tönen verändert sich ihre Erscheinung innerhalb weniger Augenblicke: Der suchend, fragende Ausdruck geht über in eine stolze Haltung, wird erst zu einer selbstbewussten Entschlossenheit, die sich schließlich in einer zurückgezogenen Verletzlichkeit aufzulösen scheint. Doch dann wird sie aktiv: Mit einem Spiegel sorgt sie für Reflektionen, für eine Störung des Bildes, die sich an die Betrachter:innen richtet. Mit entschlossenem Blick löst sie ihr eigenes Bild auf, verschwindet in gelbem Licht. Während sie sich entzieht, steigert sich der Bass zu einem dichten Sound - ihr Verschwinden wird für uns zu einer körperlichen Erfahrung. Wenn wir sie kurz darauf noch einmal zu sehen bekommen, scheint sie den barocken Bildwelten eines Michelangelo Merisi da Caravaggio oder einer Artemisia Gentileschi entsprungen zu sein - starke Hell-Dunkel-Kontraste liegen auf ihrem spannungsreichen Gesicht. Sie macht einen erschöpften Eindruck, richtet sich jedoch nochmals auf, die Aufmerksamkeit erneut in den imaginären Raum gerichtet. Zeigt sie sich uns oder ist sie unserem Sehen, unserem Anschauen ausgesetzt? Ist ihr Verschwinden ein Spiel, oder Tarnung?
Diese Ambivalenz, die auch Fragen von Macht und Ohnmacht aufwirft, liegt im Zentrum von Leyla Yenirces neuester Arbeit SPLITTER. Ihre Protagonistin ist darin nicht auf eine Rolle festzuschreiben: Sie ist zugleich Objekt eines fremden Blickes und Verursacherin der Störung desselben, sie zeigt sich und verwehrt sich doch.
Die Darstellerin, Janosa Mike, war bereits in der Video-Arbeit Paradise (2019) zu sehen, in der sie die Rolle der Zeynep Kınacı verkörperte. Die junge Kurdin sprengte sich 1996 als Schwangere getarnt während einer Militärparade in Tunceli (Dersim) in die Luft und tötete sieben türkische Soldaten. Die Untergrundorganisation Arbeiterpartei Kurdistans (PKK) feierte sie daraufhin als Märtyrerin. Das Video ist Teil Yenirces Auseinandersetzung mit dem schmalen Grad zwischen widerständiger Emanzipation und verklärender medialer Heroisierung. In diesem Kontext gesehen, findet in SPLITTER eine Verschiebung statt: Während Arbeiten wie Paradise den Tod aufgreifen, wird die Darstellerin in SPLITTER zu einer Figur, die überlebt hat, die lebt. Die geheimnisvolle Frau wird zu einer Abwehrenden, das gespiegelte Licht zu ihrem Schutz. Der Blick, den Yenirce in dieser Arbeit thematisiert, ist auch jener des türkischen Staates auf die kurdischen Freiheitskämpfer:innen. Denn während die Berge, wie beispielsweise die Kandil-Berge im Nordirak, den Widerständigen früher Schutz boten, ermöglicht der Einsatz von Drohnen durch die Türkei mittlerweile eine lückenlose Erfassung des Gebiets. Yenirce gibt ihrer Protagonistin in SPLITTER einen reflektierenden Gegenstand in die Hand, um zu blenden, sich selbst unsichtbar zu machen und so handlungsfähig zu bleiben.
–– Ferial Nadja Karrasch
Leyla Yenirce SPLITTER, 2023, full HD Video, color, sound, 3:45 min
Darstellerin: Janosa Mike, Co-Regie: Theresa George, Bildgestaltung: Sin Huh, Mixing: Anders Fallesen, Mastering: Kris Jakob